Fitting small faces with progressives
If you have a small face, fitting progressive lenses can be tricky. A petite face requires smaller frame sizes in order to fit correctly, to be comfortable, and to look good. 
Of course, smaller frames mean smaller lenses, and that can be a concern for progressive lenses, which have certain requirements for lens size and frame shape.
What are progressive lenses?
Progressive lenses are similar to bifocal or trifocal lenses, except without the sharp division between different prescription areas.
Progressive lenses include:
Distance vision toward the top of the lens

Middle vision near the center

Close vision at the bottom 
That way, people who need vision correction for far vision (driving a car) and close vision (reading a book) can get all their prescription needs met with a single pair of glasses.
Lens height is probably the most important consideration. There are minimum height requirements for progressive lenses.
This is also potentially the biggest complication for smaller faces, which can be overwhelmed by too much lens height. 
It is the height of the lens, measured in millimeters. This is also known as the "B Measure." Learn more about glasses sizes here. 
See height requirements by lens type, below.
Standard progressive lenses
The most common and lowest-cost option

Minimum lens height: 28 mm
Short corridor progressive lenses
Allows much smaller lens height 

More expensive

Some opticians don't offer them

Minimum lens height: 13 mm
Small height for small faces
Because short corridor lenses can be fitted on frames with as little as 13 mm lens height, they are a great option for anyone who really needs tiny rectangular or oval styles.
If you find that your face is overwhelmed by too much frame height, short corridor lenses may allow you to choose a frame style that flatters you, and still get the progressive lenses you want. 
It is worth noting, of course, that with less height comes less room for the different prescription areas. So, you may get a better result if you go for as much height as your pretty little face can accommodate while still looking good.
How they sit on your face
Height isn't the only factor to consider. Another is how high or low the frames sit in relation to your eyes
For example, if your frames are too large and they sit halfway down your nose, you pupils will be too high in the lens. This will mean that you won't have much space in the upper part of the frame to look through for distance vision.
A common guideline for standard progressive lenses is to have:
18mm of lens space below the pupil

10mm of lens space above the pupil 
This allows plenty of room for each prescription area. 
The best way to get frames positioned correctly is to have frames that fit you well. It will also be a little easier to adjust for position on frames with nose pads. 
Lastly, some frame shapes are not suitable to progressive lenses. Specifically, some aviators or dramatic cat-eyes can be problematic if the shape cuts too much off of the lower area of the lens, resulting in reduced area for near vision prescription.
Best Small Glasses frames for Progressive Lenses
Which frames do I recommend? I thought you'd never ask!
All frames on this site can be fitted with standard progressive lenses because they all have the minimum 28mm lens height. That said, you may get better results by doing more than the minimum, if you can. 
Lens heights for all my frames can be found on their size information. It is the last number in the series: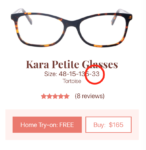 Different opticians have different requirements for progressive lenses. If you fall in love with a pair that your optician cannot fit with progressives, another optician might be able. I recommend calling around and asking about their offerings.
Please note that I currently offer frames only (no lenses). You are encouraged to take your Home Try-on to your optician's office so they can weigh in on which frame to choose!